Best Web Hosting for Small Business: Expectations vs. Reality
Web Hosting refers to a place where the website lives on the internet. If you have a small business and want to give it an online presence, you need to go for a hosting company. Here comes the most challenging part. There are hundreds of hosting companies available on the internet, but you need to choose best web hosting for small business. You will find out some company with an excellent budget-friendly hosting plan. Also, other companies give you the best and quality hosting services at a reasonable price range. No worries, we are here to find out the best web hosting company. We pick up some of the best hosting providers in this guideline to help you out. Before going for the hosting provider's details, let's look at some of the basic's aspects regarding the best web host company for small businesses.
Most of the hosting company provides three types of hosting services. They are:
Shared hosting.
VPS hosting.
Dedicated hosting.
Shared Hosting: This is the most popular and beginner-friendly hosting service for every small startup company. Basically. Under this hosting plan, your website will be stored with multiple other websites in one server. All the resources are shared. However, as the resources are all shared, it comes up with the most affordable cost. The cost of shared hosting is relatively lower than any other hosting plan.
Virtual Private Server (VPS) Hosting: VPS hosting plan is better than shared hosting but not up to the mark as a dedicated hosting plan. In this hosting plan, you will get more storage space with a customization facility. If you have a good business and have hundreds of thousands of visitors per month to your website, then VPS hosting would be a good option.
Dedicated Hosting: If you have millions of visitors per month and need a personal server to manage your business, then the Dedicated Hosting Plan is for you. A dedicated hosting plan has an entire server to manage your business website. As a result, this hosting plan comes up with a higher price than any other hosting. Under this hosting plan, you get the speediest outcome, as well as the smoothest experience. But you already get an idea that this hosting plan is not for any small or medium business.
Also, you will get some other customizable hosting plans for different purposes. There are some hosting plans for WordPress site, VPS self-managing, and auto managing plans. You will find some hosting plans for the WooCommerce website. Hundreds of alternatives are there to host different kinds of websites. You can choose the best web host for your small business. All the plans have a separate budget range, so no issues regarding the budget.
How to choose best web hosting for small business?
Here comes the most crucial part of making the right decision. As it already said, hundreds of hosting providers from where you can get the hosting service, but the question is how to choose a hosting company? To find out this answer, we researched lots of hosting provider companies, and we came up with the top ten best hosting providers by considering some factors. The things you should consider while selecting your hosting provider are:
Cost
Server Speed
Customer Support
Other Services
The cost comes first, as usual. The average range starts from $1 to $729 per month at best. It varies from company to company. Before choosing any hosting package, you need to look at what other facilities are included in the package. Not necessarily the highest costing packages are better, not the cheapest one as well. The most affordable package may have some hidden costs, so it is best to research and pick up the better one for a pleasant experience. Look for which hosting provides you the free SSL certificate free of cost. Also, don't forget to check the renewal fee. Some hosting plans start at a very reasonable price, but the renewal fee is much higher.
Server Speed is the second most important criterion you should be concerned about. Google recommends the server time should be lower than 200 milliseconds. However, something between 500ms is ideal, but over 500ms is an issue. If you choose a reasonable hosting plan that requires you more than 500ms, you should reconsider your plan. Also, you need to look at the Uptime as well. These things will make sure you have a fast website browsing experience. Imagine a consumer goes through your website link and needs to wait for a couple of seconds to get to the landing page, will he/she wait? Research shows most of the time; they leave unless they become your loyal customer. So, server time and Uptime are good options for you to decide your hosting plan.
Customer Support is a worth checking option while selecting the best web host for your small business. Soon you will need to get the support from your hosting provider. And if it requires waiting for too long to get your answer, it might be a bad experience. Some so-called hosting providers need you to wait for quite a long time, while others come up with instant support and solutions. You will find their services 24/7. So, before choosing your hosting plan, go for some reviews on your hosting provider. You may need to do some research and spend some time, but it's worth it.
Other services may include Bandwidth, Storage, Number of domains and subdomains, Email, Database Support, Backup, SSL certificate, etc. Before choosing any hosting plan, check out these services in different hosting providers and try to figure out the best one among all of them. It takes time but not worthless. Generally, people select a hosting plan for an average of 1 year. The longer your hosting plan, the cheaper rate you will get. After buying any plan, you may not change it overnight, so it's recommended to research your hosting plan. It will make you understand better than you are good to go.
What if an excellent research-based guideline is there for you? Every time you check any web hosting provider on a certain standard, another hosting provider might be better than your selected one. As it takes a reasonable amount of time, people end up with an improper decision. And this is a widespread scenario for a beginner. So, we are here to sort out your problem. We know how important this is for you to choose the best web hosting for your small business. After giving a reasonable effort and professionally research, we come up with the top ten hosting companies. We decide on these companies based on what we already described before. This is worth mentioning that you cannot find a single company with all the right things, but what we did this we look for the company which gives you mostly all the services you need to have for an excellent and smooth experience. Here you go with the top ten list.
10 best web hosting company list:
Namecheap
HostGator
Hostinger
BlueHost
GreenGeeks
DreamHost
SiteGround
A2Hosting
WP Engine
Inmotion Hosting
Let's dive in and have a closer look at each company profile and determine the pros and cons of their hosting plans.
Namecheap is one of the best hosting provider with an affordable price with all the other hosting facilities. Namecheap hosting plans start at $1.44/month, and it's very affordable if you look at their services. As a startup, you may need to have a hosting plan within a reasonable price but with all the necessary features. Namecheap offers you that. You will get the free SSL certificate, easy to use option, a beginner-friendly website set up and much more. You may just need to consider the load time. If you have a small business that may not have millions of traffic per month to visit your site, you're good to go with Namecheap, but if the load time and Uptime are your primary concern, then you should consider another hosting provider. Overall, for a small to medium business, Namecheap provides an excellent hosting plan, indeed.
Let's dive into its pros and cons.
Pros:
Unlimited Bandwidth
Free Website Builder
Free SSL
30 days' money-back guarantee
Auto Backup
24/7 Customer Service
Cons:
Limited Storage
Load time depends on traffic
For more information and details go through this link 
HostGator is another most popular website hosting company. Besides shared, VPS, and Dedicated hosting plans, it has another most popular policy only for WordPress sites. This plan starts from $5.95 per month up to $9.95 per month. You will get 2.5X more speed on your WordPress site with advanced security and free migrations. And their shared hosting plan begins at $2.75 per month. You will get a free SSL certificate here as well. All the plans have free website transfer support for you. This is also a beginner-friendly hosting company. Also, their 24/7 customer support is there to answer your questions and solve your hosting related problems. All these features make this company a hosting provider of more than 2 million hosted websites.
Let's see the pros and cons!
Pros:
Top Uptime
Top Speed
Unlimited Bandwidth and No storage limit
Unlimited email accounts
Free website transfer
Cons:
We collect the information from their official site
If you want the best web host for small businesses within a low price, Hostinger would be the best option for you. Their shared hosting plan starts at $0.99/month with a load time of only 0.143 seconds. Also, you will get the free SSL certificate in every hosting plan and an excellent 24/7 customer support. This could be a good option for you. They also have other plans, including dedicated and VPS hosting plans. At a very affordable price, they give the best experience of hosting. No prior coding or hosting skills are needed to set up the websites; rather, they develop the easy to use and beginner-friendly hosting system. But as their hosting is quite cheap from others, they give you limited bandwidth and storage.
Here are the pros and cons of Hostinger hosting plans:
Pros:
Top 2 load time
Cheap pricing
Data Centers at US, Europe & Asia
24/7 Customer service
Free SSL
Cons:
Limited Bandwidth and Storage
No free Domain
Here you go with their official site link
With more than 3 million websites hosted, Bluehost naturally comes best choice. Since 2007, they are well known for their excellent customer support, up-time server speed, and varieties of hosting plans. Also, if you have a new website, Bluehost comes up with a low-cost hosting option. Right now, their shared hosting plan starts from $3.95/month up to $79.99/month. They also have other plans, including VPS and Dedicated hosting plans. Moreover, you will also get the free SSL certificate with every hosting plan.
All their hosting plans have 30 days' money-back guarantee. This is a worth mentioning feature. Again, wordpress.org officially recommends Bluehost as the best fit for WordPress websites.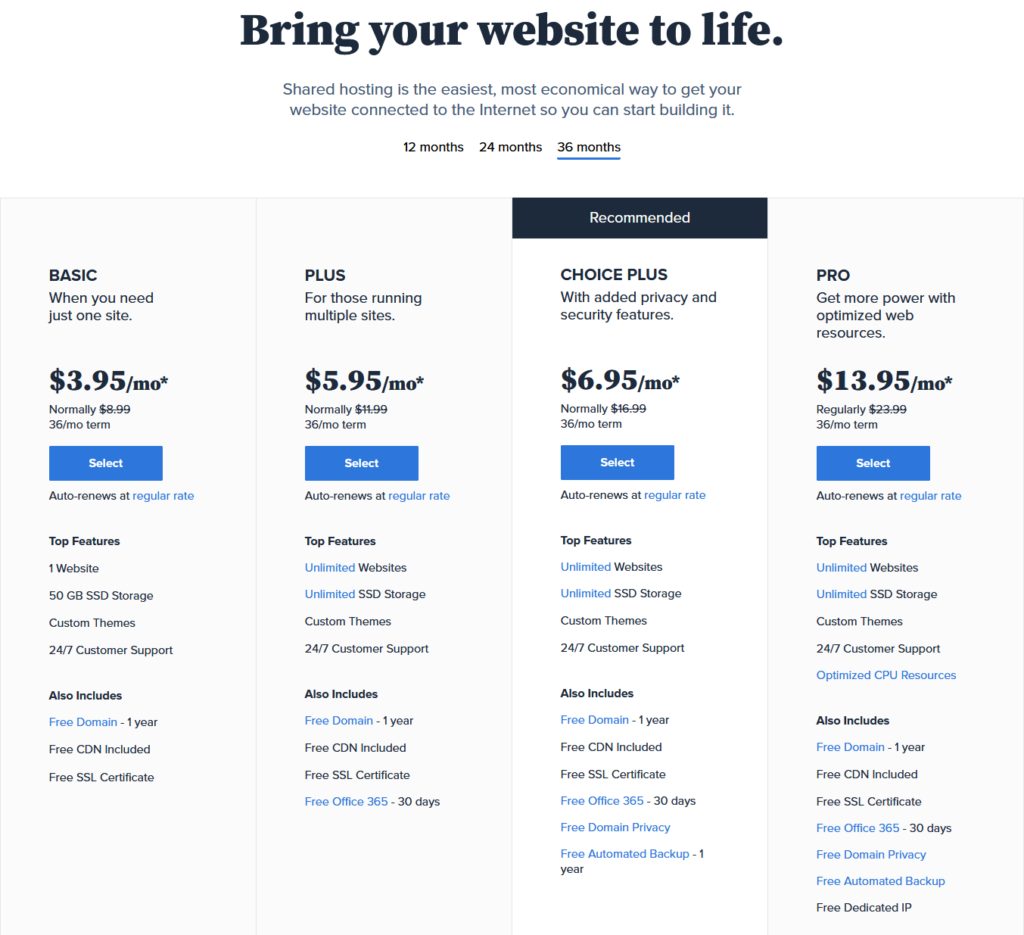 Every individual hosting provider has some pros and cons. No one can deny this simple truth. So, let's check the Bluehost.
Pros:
Best up-time (99.99%)
Top speed
24/7 customer support
Accessible to use and beginner-friendly
Domain and site builder
Cons:
Only more extended plans have the discount
For more info go through following link
Namely, with different hosting plans, WordPress hosting, reseller hosting, and VPS hosting, Greengeeks has more than 500,000+ websites hosted. Most hosting providers end up Shared, Dedicated, and VPS hosting plans, Greengeeks ad reseller hosting there. Moreover, their hosting plan currently starts from $2.95/month. With a good load time and other facilities, you will get a standard service from them. They also claim the 99.9% uptime with 30 days' money-back guarantee, which is a good deal indeed. Greengeeks has a faster, safer, and eco-friendly web hosting service.
Pros:
Good load time
Stable Uptime (99.98%)
US, Canada, Netherlands Server
Free Site Transfer
Unlimited Bandwidth & Storage
Cons:
Questionable Refund Policy
High Renewal Cost
Cons:
Set-Up fees
High renewal price
For other hosting plans and details, you may go to their site
DreamHost is one of the oldest website hosting providers with different hosting packages. Their hosting package starts at $2.59. No higher renewal is their main motto. They host over 1.5 million websites in more than 100 countries that prove their fame. Also, they provide an average load time with a good up-time. They offer a monthly plan that makes them different from other hosting providers. They also give you strong security (LetsEncrypt SSL), unlimited data transfer opportunities, and much more. All the plans have 24/7 customer service. But they don't have any cPanel option, which is a significant concern for most of the website owners.
Let's have a look at their pros and cons in a nutshell.
Pros:
Good Load time
Uptime Guarantee
Good Security
Free Domain
Good Fame
Monthly Plans available
97 days money-back guarantee
Unlimited Bandwidth & Storage
Cons:
Average Uptime is an issue
No cPanel
WordPress.org gives SiteGround the 3rd position on the recommended list. Since the inauguration, they have hosted over 2 million domains. With an excellent uptime, almost 99.9%, and average load time, they become another most popular best web host company for small businesses. They are extremely popular for their customer service. All SiteGround plans include SSL, daily backup, CDN, website builder free of cost. Their hosting plan starts at $6.99/month. So far, this is the most expensive hosting plan provider. If budget is no issue for you, then you can go for their hosting package. They also have a separate hosting plan for the WooCommerce website. You can go through their site and choose the best one for your business.
Pros:
Moderate Load Time
High Uptime (99.9%)
24/7 best customer support
Daily Back
And much more
Cons:
Set Fee on a monthly package
High price range
No cheap plan
US-based A2 Hosting company is hosting more than 500,000 websites. Also, they have the fastest load time, only 317ms. They are too fast for their optimized WordPress websites, and they also use Light Speed Cache. This is the fastest hosting provider you will ever find. But they are not that reliable. Their Uptime is not up to the mark. 99.93% up-time may be trouble for websites. Server down means you can't find your website at that time; that's why up-time is so much critical. Despite the uptime issue, A2hosting has an excellent reputation for working seamlessly with all the major content management systems (CMS). Moreover, all the plans have a free SSL certificate, free migration, unlimited SSD storage included.
Let's see the pros and cons of A2Hosting briefly:
Pros:
Fast load time
Unlimited SSD storage
Free site migration & SSL
Optimized WordPress hosting
Reasonable price range
Cons:
Up-time issue
Higher renewal cost.
If quality is your priority, and you have a WordPress website, the WP engine would be the best hosting solution. WP engine is the best hosting solution for the WordPress website. You will get the top speed and excellent up-time service from them. Well, the best thing always comes up with the high price, so does the WP engine. It will cost you $20 per month on their current price range. But you can get relief from all the hosting related issues if you go for their package. SSL certificate, CDN, and the best customer support are there for your hosting solution. Also, if you want to optimize your site for a specific region, they can do it.
In the pros and cons section, there is nothing to look at. The only thing you can consider as the cons, and that is the price. But it's worth mentioning their price is quite okay with their services. WP engine is a complete solution for every WordPress website. Other than that, you have separate hosting providers you can go for.
Inmotion comes up with one of the best VPS hosting plans. If you want to go for VPS hosting from any shared hosting plan, then go for Inmotion. Also, they have the other hosting plan as well, including a shared and dedicated plan. Their VPS hosting plan starts from $22/per month. All the plans have SSL certificates included. One thing that is worth mentioning is their customer support. You will get the best experience and friendly support from their great support center. If you like straight, forward service, Inmotion Hosting would be an ideal option.
Pros:
Unlimited Bandwidth
Good Up-time
Good support
A lot of storage facility
Easy to use
Cons:
No free Backups
Lack of advance options
Now you have an overall idea about the marketplace and different hosting providers. We have tried to come up with the updated information. There are always some offers you will get in almost every company. So before choosing any plan, search a bit and you might get a good discount. And you see most of the company provides easy to use service and similar packages with the different price range.
However, you might ask for the best hosting provider. The answer is it depends. If you look for an overall right rating hosting provider, BlueHost would be a good choice. But if you have any other preference for the best web host company for small businesses, you're good to go. Also, if you want VPS hosting plan Inmotion could be a good option. If your quality is your primary concern and you have a WordPress website WP engine is there for your best experience. Also, if your budget is limited, you can go for Namecheap. But no worries, you will get all the essential services from almost all the hosting providers. Some people are more concerned about customer support. Especially for a beginner, SiteGround would be an ideal option as they give the best customer support.
The truth is no one hosting provider comes up with 100% satisfaction. You will get the pros and cons of every hosting provider company. But we try to find out a better solution for you. We have researched almost every well-known host company and made our top ten list.