If you are searching for the best educational theme for your educational institute, this Eduma theme review will help you. Eduma is one of the best educational themes right now in the market. It has various features and availability.
More than twenty thousand plus educators and schools are using this theme for their WordPress site. You can offer your students and guardians a pleasant service through your educational website, and for that, you need the best theme like Eduma.
Today, you are going to know about all the details about the theme of Eduma. Again, you will also discover why I am calling it one of the best. So, without wasting any time, let's start.
Eduma Theme Review: Who Need This Theme?
Eduma is a multipurpose theme, and you can use it for school, college, universities, online training, or for selling courses. It's up to you why you want an educational theme. You can use this theme for marketing your courses also.
As this theme supports WooCommerce plugin, you can start an eCommerce educational site also. Then what will the site contain? Well, you can sell notepads, pens, and other stationery that are related to education. 
So, by this time, you have known who needs the theme most. Again, if you are interested in opening an educational hub, you can go with this theme. So read till the end and don't miss any part of this eduma theme review.
Eduma Theme Features Details
I will recommend you go through all the amusing features of Eduma, and I will cover them all for eduma theme review. First, let's see a quick list of popular features of the Eduma theme.
Pre-Built Demos
WP LMS Plugin
Drag and Drop Feature
One-Click Demo Importer
Pixel Perfect Design
UI/UX Optimized
RTL Support with Fully Multilingual
Mobile Friendly
Ultra SEO Optimized with eCommerce
Clean Coding with Fastest Page Loading
Customizability and Branding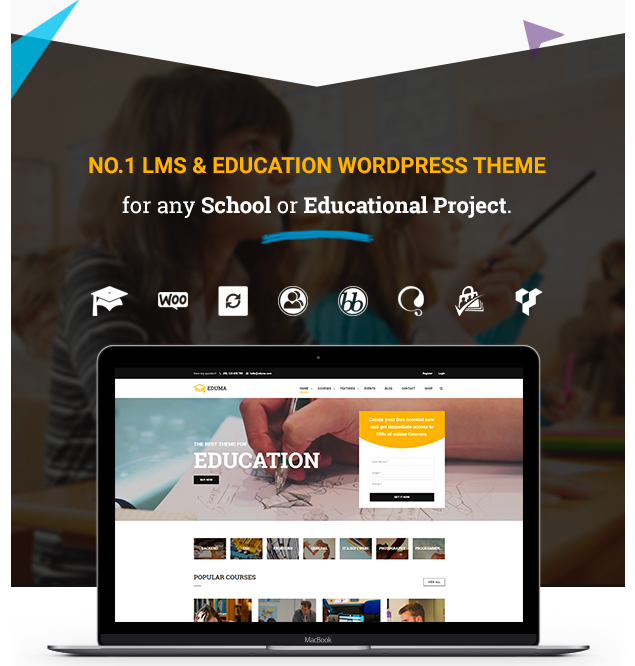 Do you know what pre-built Demos for the WordPress theme are? Well, there are many people, and they have different choices with an educational site. They may want to create a course update site or online informative blog site. For this purpose, they will need a different format, right? 
The pre-built feature ensures that you fall in love with this theme. The developers have already built the site demo, and you can import the demo by only clicking for once. There is a healthy number of demos available for this Eduma theme.
You will also get some premium quality demos, which will help you a lot to make your school website or an educational site. I am very much optimistic about these demos that they will please you with creating a new website.
You may be thinking, what kind of feature is this? A WP LMS plugin can offer you easy to update and easy to change function. This is a WordPress authorized LearnPress plugin. Do you want to learn more about it?
With this plugin, you can create a course and sell them from your website. Everything for the selling course is pre-built on the LMS plugin. The PayPal transaction method is also available in this plugin. This plugin comes with your Eduma theme.
So, you can go for this theme as it has some cool features like an LMS plugin. You can manage with this plugin-
Content Drip
Co-Instructor
Commission
Random quiz
Certificate
Drag and drop for page and header building is a common feature to have in a modern theme. Like all the current themes, the Eduma theme also has the function of drag and drop. You don't need to learn coding to create a web page. So, are you thinking about how you can create?
Well, to build a webpage, this theme will help you by offering you drag and drop features. All you need to do is select an element and drag it from the left menu to the page. You will have varieties of the latest icons and features from this builder option.
Again, you can add various animations, which will increase the site's perfection. However, this drag and drop feature is fast and secure in this theme. You can build your page with –
SiteOrigin
Visual Composer
By those page builders, you can easily customize your page or template. I'll recommend you use the Elementor page builder for creating new pages or customize a template.
One-click demo importer means you don't have to do many things to activate the demo. As you know, the Eduma theme comes with lots of pre-built demos. You can preview those demos within a short time. Again, you can install them with only one click.
To do so, you need to go to Eduma settings and find out the demo option. Click on the demo, and you will see 20+ demos. By using these demos, you can build your homepage and other pages also. Select a demo and click on "Activate," and your demo will be activated.
Isn't it straightforward? So, this feature will also help you to use the theme for your educational site. 

A pixel-perfect design means the design which is used in the theme is perfect for every pixel. This design helps your theme to run in any high-end device without showing any sloppiness. The developer has built the theme with thinking of the pixel.
Every single portion of the theme is in every detail. You can check the live demo for checking the pixel-perfect design. I am hopeful that you will love the design.
This Eduma theme owns AJAX technology. For that reason, the search and query of any course are more comfortable than before. Your visitors can easily find out their course by typing the name in the search box. With typing the letters, the search result will change in dropdown options.
There is a smart sticky sidebar, which is very surprising. It builds the site more amazingly to the learners. Again, the main content will be long, but they will see the short version here. This is a UX optimization from the developers.
For turning your visitor to the learner, there is a call to action option that has been implanted on the bottom. That means if your visitors are interested in learning more about courses or services, they can contact quickly and easily.
So, the UI/UX optimization is doing an excellent job for this theme.
RTL Support with Fully Multilingual
RTL means right to left direction where a few country's languages start from the right side. So, it would not be a problem when you are getting the RTL support from this theme. This theme also offers you a fully multilingual feature.
That means your visitor can easily convert the language for purposes. Again, you can switch the language for your usage purposes. You need not worry about the fixed language English at all. The Eduma theme will make your customization and creation easier than your realization. 
This theme is mobile friendly. That means you and your visitors can view this site from the phone and tablet also. The term Mobile-Friendly refers to a responsive theme that has some parameters for mobile browsing.
When you are in the back end of the theme, you will find an option to view as mobile on the time of creating a new page. From that option, you can select a mobile view and can observe how it will look. Isn't it amazing? The animation that you used for pc browsing will show up on mobile too.
Well, this theme and the features are a hundred percent mobile and tablet responsive, and you can enjoy this for your educational site. So, create your website by using this super responsive WordPress theme.
Ultra SEO Optimize with eCommerce
If you have worked with content before, I hope that you know about Search Engine Optimization (SEO). But you may not know that a theme can boost your SEO optimization. You may ask HOW? Ok, let me clear you-
To do SEO, you need some keywords and bullet points that are helpful for SEO. Again, you may want a table of content. However, this theme will self-generate these critical issues and will help you to do better in SEO.
You will get benefited from this theme when you will use the Yoast plugin with it. You can also install and activate the WooCommerce plugin and create an eCommerce site beneficial for you. You can sell various kinds of stationery products from your website. 
This theme has the feature of converting it from a blog site to a service site. So, you can choose this for eCommerce purposes also.
Clean Coding with Fastest Page Loading
If I talk about coding, I need to say that the developers used clean coding with HTML5, JavaScript, and JSS3. The post format is also excellent, and you will get comfort while using it. Because of having a decent coding, you will experience a fast page loading feature.
The page loading speed depends on design and coding. The developers have optimized the design in such a way that the theme responds well. You can pick this theme for its clean coding feature with the fastest response in loading time. 
Customizability and Branding
The branding of your site depends on the acceptability of the visitors on your website. When will the visitors find comfort while browsing your site? Have you thought about it? The answer is that when the color and the font please their eyes, they will find happiness.
Things to keep in mind, the developers have built this theme so much customizable, and you don't need to code for that. Everything is effortless to perform as a beginner also. You can change the font and the color of the fonts. There are 700+ fonts for you in this theme.
You can select the color according to your brand color, which will boost your branding. Again, the logo on pages will be pre-loaded. 
Pros
Compatible with the latest WordPress version.
This theme is well documented
Drag and Drop course builder
High Customizability
SEO optimized
Super responsive
Cons
The service providers don't respond so fast to solve problems.
How to set up the Eduma theme?
-To set up the theme, you need to buy and download the theme from the marketplace. After that, you are ready to upload the theme in your WordPress site. To do so, go to the admin panel of WordPress site and then Appearance>Theme. After that, you will find an option to upload the theme. There you will upload your theme and activate it.
Can I manage courses on this educational site?
– Yes, you can use this theme as an eCommerce site and do your business. This theme supports WooCommerce plugin, which will help to manage your online courses to sell and promote.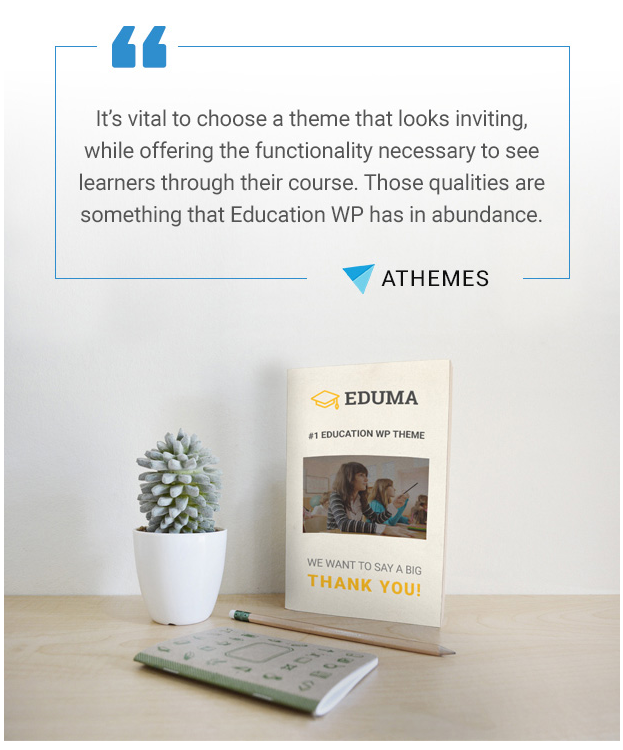 In this eduma theme review, I hope that you have understood everything about the Eduma theme, and if you are interested in creating an educational site, then go for it with this theme. To make people educated through online services is a great work to do. You can sell your courses also to make money.
For a school or an educational institute, a website is a must. So, pick this theme and create a fantastic educational website. Turn your visitors into learners.