Do you want to start your online business or rearrange your old shop business online? Well, for this you will need a WooCommerce plugin and perfect theme for your WordPress website. The Woodmart theme review will help you to find and enjoy the latest features. Today I will talk about the WoodMart theme, which has varieties of cool features.
This WordPress ecommerce theme helps you to make your website more efficiently in less time. Again, you will have lots of live demos, which will help you to establish a beautiful website.
In this woodmart theme review content, you will get full information about the theme features and some additional tips regarding this theme. So, let's start.
For whom is this product designed?
If you want to launch your shop online with some right products, then the Woodmart theme will help you to create your site. This theme has some extra amazing features which will attract your customers. Like, the hover click feature of this theme is entirely different from others.
Next on, you will have 100% customizability from this theme, and the process of header building will be easy for you. Those who are afraid of coding this WooCommerce based theme is for them. Now, you need not go to a developer to develop your online shop; rather, you can create it by yourself.
Most people search for a fully responsive theme, and you will be happy to know that the Woodmart theme is fully mobile and tablet responsive. Again, you can control your site from your phone, too, with and customize theme options.
You will find many more features and know that this theme is designed for you, and you can make your site more accessible with this theme. So, let's check out its cool features and learn some unknown information with woodmart theme review.
WoodMart Theme Features Details
I will recommend you go through all the amusing features of Woodmart, and I will cover them all for woodmart theme review. First, let's see a quick list of popular features of the Woodmart theme.
Responsive and Retina Ready
Drag and Drop Header Builder
Visualization
Full AJAX Shop
One-click Demo importer
Mega Menu with Fast Page Loading
High Customizability
Social login and Registration
Compatible with Several Plugins
SEO Optimization
Now, I am going to describe all the essential features on the list above. I hope that you will get to know some vital information about this particular theme. So, why are you late? Let's start-
Responsive and Retina Ready
What do you know about the responsive and retina ready theme feature? If you don't know, then you should not be upset at all. You may know that responsive means mobile compatibility, and it's correct. But there are many more details about the feature.
What does Responsive mean?
When you are going to add new content on your web page there, you will see that mobile and a tablet icon is showing in the preview option. That little section is for mobile response checking. That means how your site will be visible to the mobile user.
In that case, you need to check that the animations you are giving or format you are providing to your web page are perfect and working in mobiles too.
What does Retina Ready Mean?
As you know, the iPhone comes with a liquid crystal display setting, named its retina. The fact is that the number of pixels in a fixed space is higher in the retina display. In a word, you can say that the high definition display is known as a retina display.
So, to run your website bright and perfect, our theme should be retina-ready and responsive. The image you are adding to your site should also be retina ready. As the number of pixels is double in retina display than the standard screen, you should think about them all and choose your theme with a retina ready feature.
You will find both retina ready and responsive features in this theme. So, now you can build your site with previewing it live for mobile and tablet. Again, you can see that the webpages are looking crystal clear for this theme.
It will be straightforward for you to use this theme feature, and your visitors will also get comfort while browsing for products. So, this fantastic feature is there for you on the Woodmart WordPress theme.
Drag and Drop Header Builder
There is a cool feature of drag and drop header builder, which works like Elementor page builder. That means- to build your header, you should not have to code or think. Just drag and drop your favorite header options in seconds. Let's know more about this feature.
What is Drag and Drop Header Builder?
The first thing which your visitors will see is your website header. So, you need to consider about your header and what type of header you want to include so that many needed options may appear to the header option.
Here, the drag and drop options will make your work easy. You need not code or think about them. You will get various options to include on the header options.
What You Will Get from Woodmart Theme?
You can add blocks, images, and many more things using this theme feature. The feature is responsive and takes less time to preview as they are prebuilt. Now you can edit your top header, mid header, and the bottom header by this feature. The fun fact is that you can change the text shape, color, etc.
To use this theme feature, you need to go to the control panel of your WordPress website. Here, you'll find an option to edit the header. Now, you can also add your social media account with text on the top header.
The customization for the header layout is also effortless, and you will get a prebuilt header appearance. It is very cool when you get some premium quality header prebuilt in a theme. So, you can choose it for various options.
You will get the visualization feature from this theme, and it is offering you some quality template. Now, it's effortless for you to import a template or model for a page. Suppose you want to create an about us page, and the exciting fact is that, you will find various templates for this. You need to select the template under this theme.
After importing the template, you can also edit them. Yes, they all are customizable. You can add a color and text to your website page. Again, this feature will let you customize the images also. Yes, you can edit and place your images in three sizes.
When you select this theme for your shop and choose one of their templates, you don't need to worry about them. You won't face any technical issue as a back-end user. The editors of this theme have given priority to the visual quality of this theme.
Do you know what AJAX is? Well, AJAX stands for Asynchronous JavaScript and XML, which means you can now build dynamic web pages by using this technology. It's a very time-saving process also to develop your shop.
This feature and technology allow the part of the web page to show updated information. For example, if your visitors go through a shop page, the product may start changing automatically. This doesn't require any reloading issue.
In the Woodmart theme, you will get this technology working correctly from the back end. You will get the option to build dynamic pages in your online shop. It sends data to your background data and helps your visitors to enjoy the feature. In Woodmart, you can use this feature on every page you want.
You will also have the option of filtering products to your customer. This task is possible for AJAX technology. Though AJAX isn't a programming language, it's a combination of two words. But don't worry about coding. You need not code while all the features have a first look. You can drag and drop them to make them work.
Your customer can now search for products on full screen, which is also powered by AJAX technology. After typing the name of the products, the products will appear on the bottom. Isn't it amazing? You are getting this fantastic cool feature from this Woodmart WordPress theme.
As you have already known, the Woodmart theme comes with various templates to import for specific pages. Again, there are multiple numbers of demo header options available in this theme. Now, I am talking about the One-click demo importer feature.
What would it feel, when you click on the import button, and it takes so much time? Well, it will be so disgusting, and for this one-click demo importer feature is so popular. By this feature, you can choose your website page appearance from various options.
To be extremely specific, you will get 60 demos from this Woodmart theme. This theme is one of the best themes for growing your eCommerce website. The demos you are getting from this theme are amazing to see, and I am sure that your visitors will also be attracted.
If you want to create a specific product-oriented shop, then you should choose the theme demo from these 60 demos. Again, they all are customizable, and you can customize them by yourself. You need to click once to import the demo.
Mega Menu with Fast Page Loading
You will get a mega menu from this theme prebuilt. In this mega menu, your customer will get more options centralized. In this feature, you will also get the drag and drop option available. So, it's now effortless to create a mega menu.
The page loading will also be high-speed, and you and your visitor's experience through the page loading process will also be amazingly easy. It's possible for the quality of coding. For coding, the developer used the most recent updated codes.
You will get updated color and fonts, which are also very responsive and dedicated to this theme. So, I will suggest you go with this theme for its fastest loading speed.
You may see many themes that say that they are customizable, and you will find several options that you can't customize. But in Woodmart you won't face problems like this. All the features and widgets are highly customizable. You don't need to know custom codes for editing your theme.
Again, the settings panel of this theme is straightforward, and you can easily find the option from there. Your website is now going to adapt to the new customized settings. The customizable feature will give you more accuracy in page building by suggesting your best edits.
However, the fonts, color, media, shape, and appearance are also customizable. You don't need to think about the back-end processes, and the theme will let you make changes in it. You can also update your site's swatches with the help of this theme feature. The samples will allow you to show your customer multiple product variations, which will boost your sales.
Social login and Registration
It's crucial to have a social login on your website so that your customers get responses from your social media. This theme has the option to do so. Your customer can have the login option and the registration option from this Woodmart theme.
However, to create this section, you need to go to the settings panel of your theme and add the option of social media login. You can add their Instagram, Facebook, and Twitter. It's essential to have this kind of login option for attracting visitors.
You can also add a contact form for your customers to give their opinion on your shop. You will also get valuable information on your shop adjustment. So, I will recommend you use this feature.
Compatible with Several Plugins
I hope that you know about the WordPress plugins and why they are used on a website. If you don't know, then let me clear you about it.
What is WordPress Plugin?
A WordPress plugin is a web-based application that helps your WordPress site to execute a specific operation. Like you want to add a contact form on your website. To do so, you need to install and activate a plugin for that. That plugin will generate a contact form.
Again, you can add various features by installing and activating new plugins. But you need to know about the compatibility of the plugin with your WordPress theme. Now you will know about the Woodmart theme plugin compatibility.
Woodmart Plugin Compatibility
Have a look on the list to know which you are getting-
Revolution Slider
WPBakery Builder
WooCommerce
WPML
W3 Total Cache
Contact Form 7
Yoast
MailChimp
bbPress
Revolution Slider– This plugin helps to build new pages and visualization. This plugin is perfect on any device. So, now you can use this fantastic plugin with your Woodmart theme.
WPBakery Builder– This is also a page builder that is trending right now for its cool features. You can use this with your theme. It takes less time to build a new page.
WooCommerce– This is used to upload products and build an ecommerce website. This plugin is a must needed one for your shop, and you are getting compatible with your Woodmart theme.
WPML– It's a multilingual plugin, and it will help your foreign customer to translate your site in their language. This plugin is also compatible with your theme.
W3 Total Cache– This plugin helps to increase page and site performance. It fastens the page loading time and increases SEO optimization availability. You can use this plugin with your theme without
Contact Form 7– Do you need multiple contact forms in your online shop? Then this plugin will help you to do so. You can open various contact forms for multiple purposes by this plugin with your Woodmart theme.
Yoast – This plugin is used for doing SEO on your website. It is one of the best SEO optimization plugins which works comfortably with the theme.
MailChimp – If you want to target your customer, you need to send a business email to your customer. So that the customer can get influenced and visit your site, to do so, this plugin will help you, and this is compatible with Woodmart.
bbPress– To launch a forum for your customer and your team, you can use this plugin. It is the most used forum plugin, and you are getting it compatible with the Woodmart theme.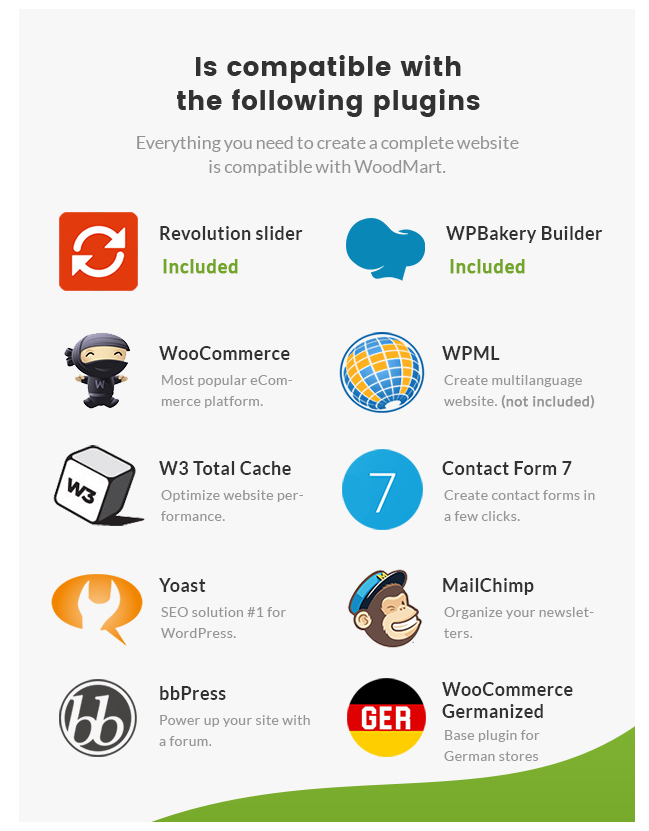 If you want to rank your shop in Google, you need to do SEO on your site. But there is a secret to go on the number 1 position in Google search. Your used theme should be a hundred percent SEO optimized so that your content can quickly be done with SEO.
If you don't do SEO, then your customer won't find your site. As a result, your business can't grow up with maximum speed. In this aspect, the Woodmart offer their client a full SEO optimized theme which has excellent compatibility with the Yoast plugin.
You have known before that Yoast plugin is used for doing SEO. It's effortless to use this plugin. You need to check the perimeters by the plugin to make them green. Yes, by making a green bullet, your content is going to be SEO optimized.
There are a lot more things about the feature. Like everything depends on organic visitors. The more you get visitors, the more you will gain popularity. For that, you need to rank your website at various search engines. However, to do so, you need to select a theme that is ultimately SEO optimized.
Pros
Light-weighted theme.
Full AJAX technology used.
SEO optimized.
Various header layouts.
One-Click demo importer.
Several plugin compatibilities.
Easy to customize.
Fast page loading.
Great customer support.
Nice flexibility.
Cons
I am tired of getting some cons for this theme.
How to use the Woodmart theme?
– To use the Woodmart theme, you need to buy and download the theme first. After that, on the WordPress control panel, you should upload the theme file. After that, you need to activate the theme for further use.
Will I get Customer service on time?
– It is an advanced quality theme with no technical faults. If you face any problem regarding this theme, then the customer service team will solve this problem as fast as they can. You can check the reviews and get the idea of how quickly the service team responds.
I hope you have enjoyed the WoodMart theme review in this article. Now you have known everything about the theme and may intend to buy it for your online shop. My recommendation will always be with this theme because of its advanced features and options.
If you want to open an online shop and grow your shop, you should go with the Woodmart theme.